HEATING ELEMENTS

Electro-conductive properties of carbon fibrous materials allow using them in manufacturing of woven heaters, nonmetallic electro heating wires, heating elements of an infra-red range, textile products with electro heating etc.
The electro-conductive materials of different textile structure and different linear resistance values are produced on the bases of carbon fibrous material UVIS


CARBON TAPES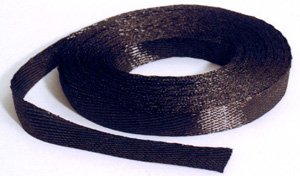 | | | | |
| --- | --- | --- | --- |
| Width, mm | Thickness, mm | Weight of 1 running meter, g | Resistance, Ohm/m |
| 15+1,0 | 0,6+0,1 | 4,0÷4,5 | 15,0+2,0 |
| 20+2,0 | 0,6+0,1 | 5,5÷6,0 | 14,5+2,0 |
| 44+2,0 | 0,4+0,1 | 7,0÷8,0 | 14,0+1,0 |
| 44+2,0 | 0,5+0,1 | 12,0÷13,0 | 6,5+0,5 |
| 100+5,0 | 0,5+0,1 | 28,0÷28,5 | 3,0+0,5 |
| 550+10,0 | 0,5+0,1 | 160,0÷180,0 | 1,0+0,5 |
COMBINED CARBON TAPES AND FABRICS
Patent Russian Federation 2114942, kl. 6D03D  15/00
| | |
| --- | --- |
| Width, mm | 100÷800 |
| Thickness, mm | 0,5÷1,0 |
| Resistance, Ohm/m | 1,5÷20,0 |
CARBON THREADS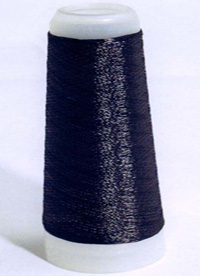 | | |
| --- | --- |
| Linear density, tex | Resistance, Ohm/m |
| 70+310% | 720+10% |
| 100+10% | 515+15% |
| 205+10% | 250+15% |
| 400+12% | 130+15% |
Carbon fibrous materials offer:

wide range of electric characteristics due to different techniques of weaving, twisting etc;
large heating elements which have very uniform temperature distribution among the surface (∆Т<2оС)
heating elements having very high convective heat transfer
guaranteed longevity of heating elements (30 years and more)
nature-friendly articles
dry and soft heating
NON-METAL HEATING WIRES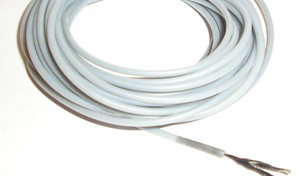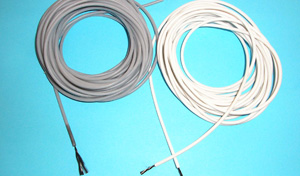 Insulation materials: fluoroplastic, silicon plastic, organic-silicon rubber, polyvinylchloride.
Technical parameters:
| | |
| --- | --- |
| Resistance, Ohm/m | 80; 120; 250 |
| supply voltage, V | 12÷220 |
| Electric durability of isolation, not less than kV | 15 |
| Optimum temperature of heating оС | 20-80 |
| Maximum temperature of heating оС | 180 |
| Diameter of a wire on isolation, mm | 1,5÷2,0 |
| Minimum bending radius, mm | 5 |
| Operating mode | long-term |
| Long-term TBF, hours | 10 000 |
| Retention period | 10 years |
Main advantages in comparison with metal heating wires:
stability at multiple alternating deformations
high specific resistance
lower specific heat duty
In perspective

The combined isolation
Resistance from 10 to 500 ohm/m
Supply voltage from 6 to 380 V
THE SYSTEM OF ELECTRIC HEATING OF THE FLOOR 
Patent Russian Federation 2124612, kl. 6Е04F15/18 
Manufactured with a heating elements
From a carbon fibrous material

Provide

Advantages comparing with cable wires




Supply voltage 24V
In a crude premises 12V (bath, kitchen, cellar)
power-weight ratio 50-150 W




Surface Temperature 20-35оС
Ecological cleanliness
Necessary design and aesthetics view of facilities




Application of low voltage, safe for a life
Base load electrical savings by 10-15 %
Maximum heat dissipation, close to 90 % 
Durability at thermal loading 40-60оС till 30 years
HEATING ELEMENT OF AN INFRA-RED RANGE OF LENGTHS WAVES
Radiator – a carbon fibrous material with the modified surface
Technical parameters:
Electric capacity – up to 2000 W (standard – 900 and 2000 W)
Supply voltage – 220 V (possible 24, 100, 110, 230, 240 V), 50-60 Hz
95% rated power output time less than 15 sec.
Rated power output time less than 30 sec.
Capacity share in infra-red range up to 99%
Length of the waves, corresponding a maximum of a spectrum of  radiation 2,5 – 3,5 micron
Radiating ability – 0,99
Temperature on a surface of radiator less than  800°C
Length of quartz tube – up to 1000 mm (standard 550 and 1000 mm)
Diameter of quartz tube – 12-16 mm
Life time – more than 10000 hours
Vacuum in quarz tube up to 10-4
Design – linear, ring, u-shaped, with a covering from REM-metals and gold reflector
Application:
Heating of household and industrial premises
Electrical household appliances
Physiotherapy
ELECTROHEATING TEXTILE PRODUCTS «CARITHERM»
Are made on the basis of the carbon tapes, the combined fabrics and tapes and nonmetallic carbon wires. «Caritherm» is soft heat which that gives a non-polluting element carbon without oxygen burning.
Such products as blankets, carpets and rugs, hot-water bottles, capes, mattresses and sleeping-bags are issued.
" CARITHERM " is:
Ultralow, safe voltage 12V which moves through the isolation transformer – the adapter
Products which can be applied in the medical purposes, as a source of soft heat to the people, suffering such illnesses as an osteochondrosis, a radiculitis, rheumatism, etc.
Products which can be used for protection against overcooling during transportation of serious patient in reanimobiles; during the operations in field conditions
Products which are recommended to be used in massage offices for comfort of the patient
Products which create individual comfort and a cosiness during rest and work at office, in apartment, in a village-house especially in transition periods - in the early spring and in the autumn.
Technical parameters:
Dimension, cm from 30х40  to 50х150
Heating element – carbon fibrous material
Power, W 10-50
Domestic power supply by way of adapter
Car power supply by accumulator
Heating period, min - 8 – 15
Application:
Heating of a sofa, an armchair, a chair in apartment, on a village-house, at office
Heating of driver's slating and bunk during the traveling and car parking
Heating of your pet places