One of activities of UVICOM Ltd. – is research and manufacturing of protection frames from high-tensile aramide threads in a combination to the carbon thread «TEKZO». Products provide safety of work at influence of adverse factors of environment. UVICOM Ltd. produce gloves, oversleeves, aprons, waistcoats etc.
Electromagnetic irradiation protective gloves and socks
These gloves are the part of the protective suit for the staff working at:
outdoor switch gear
aerial power lines;
high tension plants (up to 1 million volt)
super high frequency plants.
The gloves make comfortable working conditions:

soft, light, firm
breathable
thermal resistant
good hands protection from cold
Technical parameters:

electric resistance between any 2 points of the glove surface does not exceed 30 Ohm
screening constant (of the whole suit) is not less than 100
gloves weight (or one pair) is not more than 150 g
Microwave radiation protective apron


Technical parameters:

Lessening of radiation:
1. frequency range 30 – 100 MHz in 10000 times
2. frequency range 100 – 1000 MHz in 100000 times
3. frequency range 1000 MHz in 1000 times
Weight – 500 g.
PROTECTIVE GLOVES, OVERSLEEVES, MITTENS, WAISTCOATS AND APRONS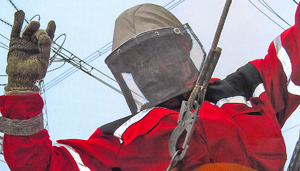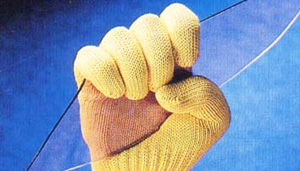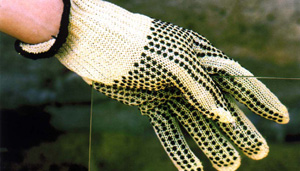 Main advantages:

Protect hands and a forearm from cuts
high firmness and breathable
Structure: 68 % high-strength aramide, 24% corrosion-proof steel thread, 8 % a polyether
Maintain influence of the simulator of a knife under loading 500 N
good hands protection from cold 
heightened elastic
hygienic, can be washed with detergents
extra 150mm of cuff length provide additional wrist protection
Oversleeves have height from 10 to 50 cm
Application

meat and fish processing factories
porcelain, ceramic and glass producing plants
any plant where workers contact with sharp cutting objects
HEAT-RESISTANT CLOTHES: THE SWEATER, THE GLOVE, THE MITTEN, PROTECTIVE HELMETS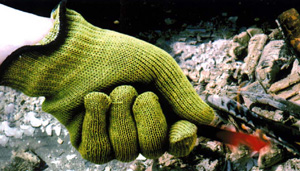 Main advantages:
Good resistance to high temperatures (up to 250 С)
Good wear resistance; resistant to influence of acids, oil - and mineral oil, during the heating do not discharge materials harmful to the person. 
hygienic, can be washed with detergents
Gloves use as separately, and complete with oversleeves
Gloves develop double or unary, the sizes 9, 10, 11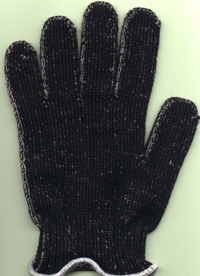 Application

metallurgic industry
welding works
any plant where workers contact with heated surfaces